the Nondies
Formed during the summer of 2002 it mergers two of Oxfordshires senior clubs, Oxford Nondescripts CC and Bletchingdon CC.

John Brown, Bletchingdon's chairman, explained: "We first started talking to the Nondescripts at the beginning of the year.

We had invested heavily in our facilities, but were struggling to attract players to come and play in Division 5 of the Cherwell League.

Although the club were in no immediate danger, we were looking for a way of bringing the standard of cricket to Bletchingdon that the facilities deserve.

We also have a number of younger players who will now have an opportunity to develop and play a higher standard of cricket without leaving the club."

Chris Bishop, the Nondescripts chairman, added: "I umpired the Oxfordshire Cup final at Bletchington last September and was tremendously impressed with what I saw.

We see this as an opportunity to turn two medium-sized clubs into one large organisation that will provide cricket to suit all standards and age groups."

the Nondies are committed to fostering, improving and promoting the game of cricket in the county of Oxfordshire, England, UK.
Here you'll find information about the club and its history, membership information, scores and results of games played, and links to various other cricket clubs and resources.

The club is comprised of members with varying degrees of cricketing skills. However, there is one thing that everyone shares - a love for the game, and enthusiasm to see the sport grow.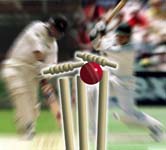 The club is an affiliated member to :-
The Classic Press Cherwell League
The Oxfordshire County Cricket Association.
O & B N C C is one of the premier cricket clubs in Oxfordshire, UK.
Situated to the north of Oxfordshire the club has two home pitches. One just off the Oxford City ring round where the club uses the excellent club house and cricket facilities of the Oxford University Press company. The other the beautiful village ground within Bletchington.
Every Saturday, the club fields 4 sides in the Oxford Times Cherwell League. On Sunday the club plays a programme of friendly fixtures against local clubs.

O & B N C C Details
4 sides in the Oxford Times Cherwell League
1 Sunday side playing friendlies
If you're a player looking for a change of club next year then why not have a think about us. The club offers two grounds which are considered to be some of the best facilities in the county. A friendly environment which can offer cricket for all playing standards. If you want more details just go to the "Join Us" page and please email us. We are also on the look out for a committed and well-qualified coaches who could help with the junior section.
---