Visit the official web site OBNCC.co.uk
Youth Section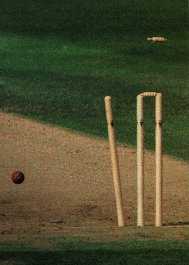 Two established local clubs Oxford & Bletchington Nondescripts C.C. and Wolvercote C.C. have pooled their resources with the formation of a youth section.

It has long been recognised that for senior sides to prosper there is a need to generate a source of young-coached players. Realistically this can only be achieved by having your own youth structure and therefore with this in mind the two clubs have joined together.

Oxford Nondescripts were in fact one of the pioneers of youth cricket within the County and it should be remembered that the county u13 competition is named after the very promising young Nondies cricketer Dennis Swanton, who died following a tragic accident.

The alliance between the clubs aims is therefore to provide the area of North Oxford with a strong youth cricket presence, sourced from the local schools.
Following a successful trial last year the set up aims to enter sides in the
under 11's, 13's and 15's Oxfordshire county competitions.

It was decided that to enable the two clubs to attract further players that the
name of Summertown be taken. This large catchment area has no clubs to service it therefore it was seen as an ideal opportunity. It is also close to the areas of Wolvercote and the two home grounds of the club; the OUP sports ground and the in Bletchington.

Interested parties please contact Chris Bishop telephone 01865 765362 for further information

To enable the young players develop into senior cricket the two clubs are also combining their Sunday sides, who will also play under the name of Summertown CC. A complete fixture list has been complied for the current year.

Adult nets have also been set up for those people looking to play senior
cricket. See home page for information or contact Andy Haynes on
telephone 01865 863921.